8 good reasons to visit the island of Sri Lanka !
In these tumultuous times, where the covid-19 pandemic has shaken up our habits and our liberties, millions of you are wondering where you are going to be able to travel abroad as soon as it will be possible again? And this future trip must be magnificent to make you forget these difficult months.
Within a few months, with your vaccination booklet in your pocket and your passport up to date, you will be heading (finally!) to the nearest airport to fly to a destination that will help you to recharge your batteries, to taste again the discovery of another culture but above all to rediscover that feeling of freedom that we missed so much.
So when you scroll the planisphere before your eyes stop in Asia, in the south-east of India and with your delicate finger aiming at Sri Lanka you will not be disappointed, believe me!
I have travelled 60% of the globe and in 2013 I visited Sri Lanka for my first time like you on a tourist trip and what I discovered there literally changed me. I never imagined that such a "small" island (10% of the French territory) could contain so many visual, gustative, olfactory and emotional riches. Sri Lanka, the "island where happiness is obtained", will know how to surprise you, transport you, reconnect you to yourself, allow you to make magnificent encounters and simply allow you to find YOUR happiness.
Whether you are in couple, with family, friends or alone as an adventurer,
Sri Lanka will know how to give you what you came for.
​
Come to Sri Lanka for the climate !
With an average of 27 to 28°C day and night, from January to December, we can say that the island enjoys a more than pleasant climate. Even if some periods are wetter or hotter than others, in Sri Lanka the coastal winds come to rock you and cool you down.
If you are afraid of the sun or the heat, choose a coastal tour, a stay by the sea or visit the South West of the island in April and between July and August.
If on the contrary the heat and the sun do not frighten you then you can travel everywhere on the island and in all seasons.
Sri Lanka can be visited almost all year round, but depending on your month of departure your tour or place of travel should be adapted accordingly: December to April visit the West Coast (from Negombo to Wales) and South Coast (from Wales to Yala Park) as well as the mountainous region (Nuwara Eliya, Adam's Peak), from May to September focus on the East of the island (from Arugam Bay to Trincomalee) and the North (Jaffna). 2 months are generally to be avoided : October and November.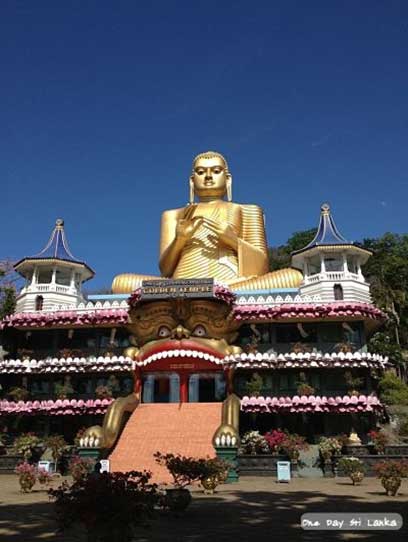 Discover its Buddhist culture and its temples
Buddhism is practiced in Sri Lanka by more than 70% of the population. You can see thousands of temples if you visit the whole island. As a rule each village has its own temple as in France we have our churches. But some of them are places of pilgrimage or must-see places such as the Temple of Kandy (or Temple of the Tooth because it houses the tooth of Buddha), that of Dambulla (known for its golden Buddha), or the site of Anarudhapura sheltering several temples but especially the 2400 years old Bodhi tree (under which Buddha reached enlightenment) and finally Polonnaruwa sheltering a magnificent reclining Buddha and located on one of the oldest archaeological sites of Sri Lanka.
These religious places alone are a marvel to the eyes of young and old alike. All the temples are open to visitors as long as you wear appropriate clothing (t-shirt and shorts below the knees for men, t-shirt and pants or long skirt for women) so be prepared and always carry a sarong or simply a large non-transparent cloth stole to cover your legs and/or shoulders.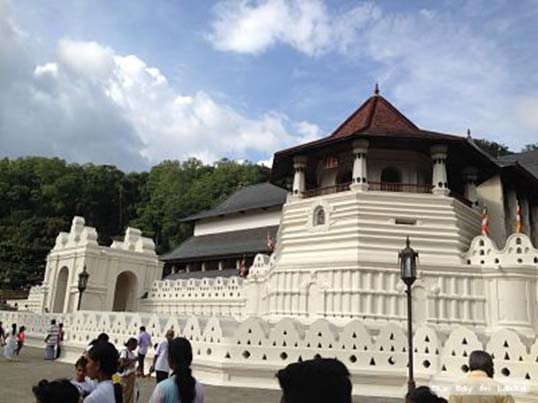 Taste its culinary wealth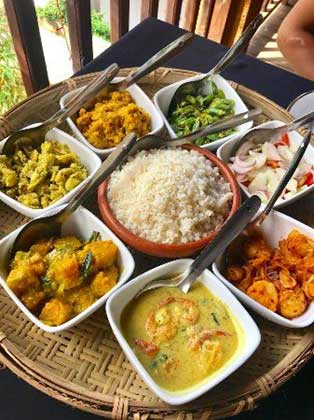 Sri Lanka and rice is a story that has been going on for almost 3 millennia, so yes it is the culinary staple.
The most emblematic dish is undoubtedly Curry, synonymous with sharing and convivial moments it is composed of different ingredients cooked and served in small portions. You can find Currys based on chicken, fish, shrimps, pork, mutton or lamb, or simply vegetarian and vegan.
Rice is the main ingredient with which you will be able to mix your meat or fish, vegetables, papadam (fried lentil cake, kids love it!). Each family and restaurant has its own recipes, ingredients, spices (even if the curry leaf is always part of it), you will never eat the same dish throughout your stay. The Sri Lankan also knows how to adapt to our palets and can propose them more or less spicy (if you have a doubt don't forget to say "no spicy" it will already be sweeter).
Enjoy its beaches and surfing
You can discover sumptuous beaches with stretches of white, yellow or gold sand as far as the eye can see. You will be able to take beautiful postcard-quality photos. But if almost all the beaches can accommodate your towels on the other hand you will not be able to swim everywhere. Indeed, the Indian Ocean which borders Sri Lanka is strong in current and the swell of the waves is also strong because of the winds. To help you there, nothing could be simpler, if you do not see anyone in the water do not swim! You can still get soaked to refresh yourself of course. But don't worry, you can go to Mirissa, Unawatuna, Indurawa, Uppuveli, Nilaveli, Tangalle, Hiriketiya, Talalla for a good swim.
You can also find beautiful surfing spots between the south and east of the island. Some of them are practicable to discover the activity (Unawatuna, Welligama, Arugam Bay) because they are protected by the coral reef and others are for experienced surfers (Mirissa, Hikkaduwa, Coral Garden or Rams for the experts).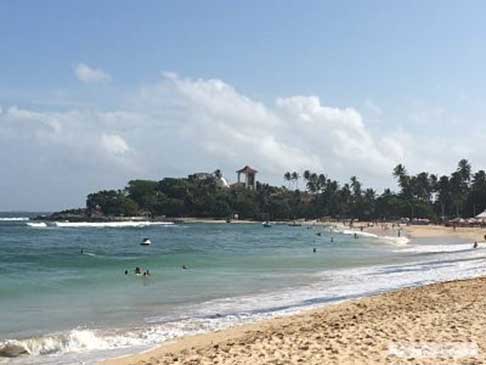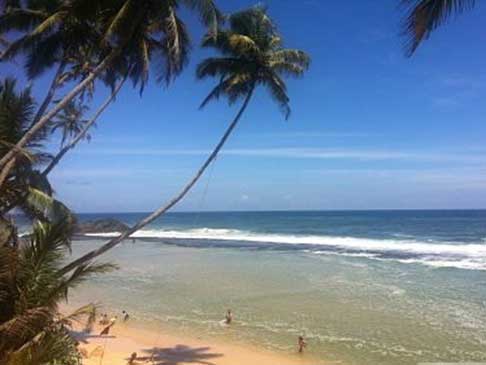 You will be surprised by its fauna
Sri Lanka has more than 20 animal parks allowing it to protect a beautiful part of its territory and its species. Having already visited Africa I can tell you that I have not been disappointed by the richness of the fauna: elephant, leopard, jungle cat, giant squirrel, sambar, deer, buffalo, lazy bear, giant bat, red or black monkey. Not to mention the many birds such as the kingfisher or the peacocks walking in the rice fields, but also sea turtles, dolphins, whales and…monitors (don't worry, they are not aggressive and tend to flee when they see you, but be aware that like all lizards they climb trees so be careful before leaning against one of them).
If you go with your family with young children, it's IDEAL ! You will be able to visit parks like Willpatu (natural lakes, bears, crocodiles, leopards among others), Minneriya (the park and the elephant region), Bundala (ornithological park), Uda Walawe (my favorite for its African tunes). There is also Yala, but really if you don't have other possibilities because even if it's a beautiful park it is a victim of its success and therefore much too touristic (not to mention the off-road drivers linked together by walkie-talkie and who stalk the animals to make sure you get your money's worth).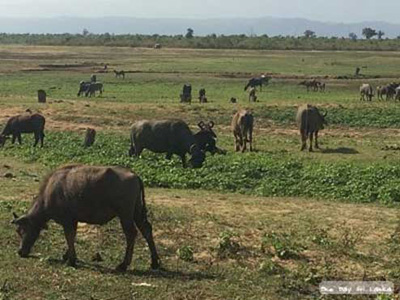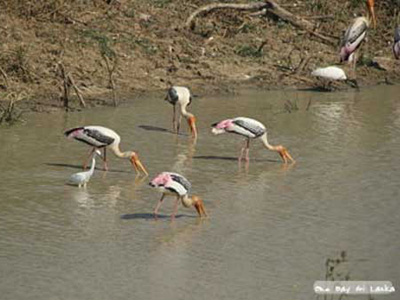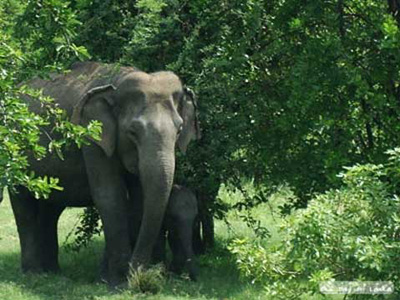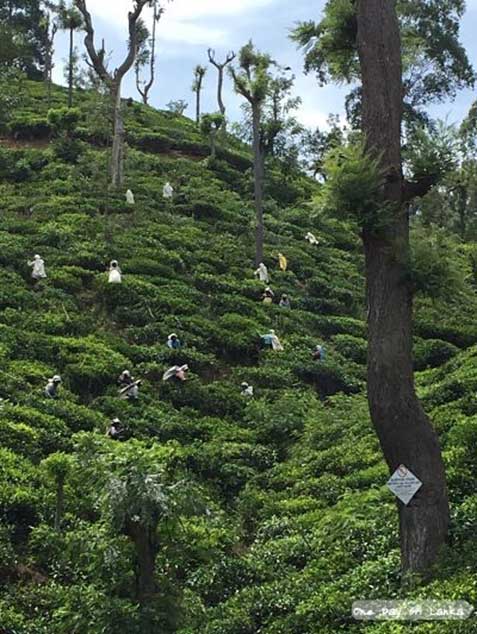 Almost 40% of the country is made up of forests, rice fields and tea plantations, which means that there is a significant presence of natural and green areas.
Among the places to discover you will have the choice between the mountainous province with its stepped tea plantations, its waterfalls and rivers (located in the center of the island), the more arid spaces of the Northern plain offering you an exceptional luminosity on its very colored temples, seaside and wild spaces on the West Coast, magnificent beaches in the South where you can go diving and finally on the East Coast, wilder, the fauna and flora will fill your eyes (elephants live there in freedom and it is not rare that some of them cross the roads).
For those who want to know how Sri Lanka was before the presence of man, make an appointment with the primary forest of Sinharaja (south west of the island), classified as a UNESCO World Heritage Site for its biodiversity, it has a very large number of endemic species.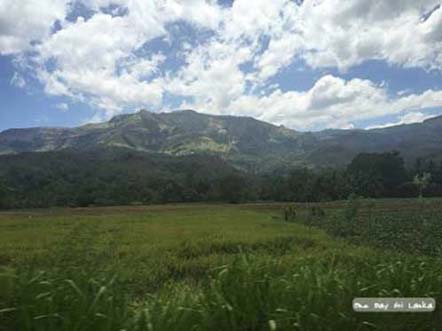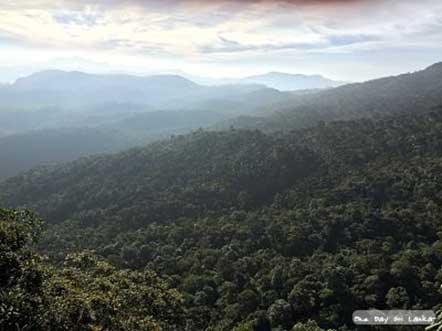 Take care of your being and your body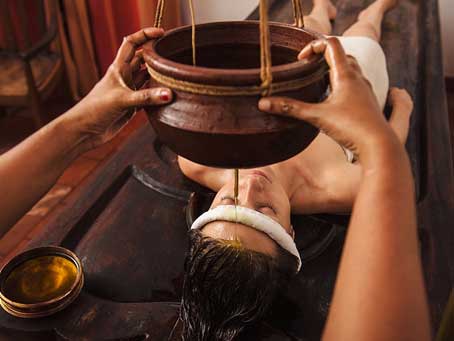 The Sri Lankans heal themselves with Ayurveda, a traditional medicine that treats ailments with plants.
Simply discover these treatments through an oil-based massage (massages last about 30/45 minutes and then you have to wait 15 to 30 minutes before taking a shower to let the oils continue their benefits).
You can also come to Sri Lanka for a cure of ayurvedic treatments and if you combine these treatments with meditation exercises you will find harmony and inner peace.
Meditation is also very present in the Sri Lankan culture, the island has about 60 meditation and yoga retreats and more and more tourists are coming to reconnect with themselves and give meaning to their lives.
Reliving its history through tea and spices
Did you know this? Ceylon was a coffee-producing country until the 1870s! It was following a disease that decimated all coffee trees that the Sinhalese generalized the cultivation of tea and turned it into a new flourishing trade, placing them today as the 4th largest exporter in the world. The famous Ceylon tea is a black tea that the locals take with milk and a square of "Milk Toffee" (a kind of caramel) as a sugar that can be dissolved or chewed separately.
On the spice side, you can visit "spice gardens" which will show you all the spices present on the island (pepper, turmeric, cinnamon, cocoa, ginger, clove, nutmeg and mace, kitul sap among others) but also the main plants used in ayurvedic treatments (you can discover how the 15,000 monks of the island do it to have neither hair nor hair!).
So ready to go ?